Broken Arrow OK Kitchen Cabinets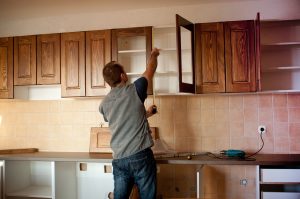 Kitchen Cabinets Broken Arrow OK
Oklahomans know who to call when you want new kitchen cabinets in Broken Arrow, OK! Contact the friendly cabinetry experts at Tulsa Home Remodeling & Kitchen Cabinets at 918-417-1818
Our contractors and remodeling experts are Oklahoma's cabinetry authority. We sell all types of kitchen cabinets and even make our own custom cabinets, and we can match any look and style you're looking for.
New Kitchen Cabinetry Broken Arrow
If you're looking for top-quality, high end kitchen cabinetry in Broken Arrow look no further than us! We offer all types of kitchen cabinets and a variety of cabinetry to choose from. If you're interested in ...
Oak kitchen cabinets
Cherry kitchen cabinetry
White kitchen cabinets
Fiberboard kitchen cabinets
Metal kitchen cabinetry
Melamine cabinets
Solid wood cabinetry
Thermofoil cabinets
Laminate cabinetry
Custom kitchen cabinets
And anything else cabinetry related we can help!
Best Cabinet Maker Broken Arrow OK
If we can help you with new kitchen cabinets in Broken Arrow, give us a call today at 918-417-1818