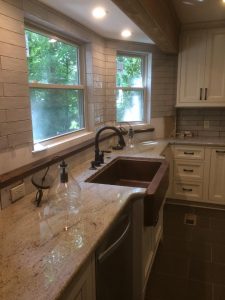 Countertops Tulsa OK
Tulsa Home Remodeling & Kitchen Cabinets is Tulsa's #1 source for new Kitchen countertops and bathroom countertops in Oklahoma. We use only the highest quality brands and manufacturers for our countertop installations, and that's why we are the #1 countertop installation company in the region.
Our kitchen designers and bathroom designers are standing by to help you design your perfect space. If you'd like to learn more about all the options available through us, or if you already know exactly what you want and need someone to help you get it installed please give us a call today at 918-417-1818
We would love to assist you with your new countertops in Tulsa, Broken Arrow, Bixby, Jenks, or the surrounding areas in Oklahoma.
New Kitchen Counters Broken Arrow, Jenks, Bixby
We have countertops available in every major material, and can cut your new counters to fit any space. We offer ...
Granite countertops
Soapstone counters
Quartz countertops
Custom wood countertop
Marble countertops
Stainless steel counters
Concrete countertops
Ceramic tile counters
Laminate countertops
And more!
We have options to fit any budget, whether you're in the market for luxurious high-end granite counters or if you're in the market for more affordable laminate counters, we can help you! Trust your kitchen remodel or bathroom remodeling project to us - give us a call today at 918-417-1818
New Bathroom Countertop, Kitchen Counter Claremore, Sand Springs, Owasso
If we can help you pick out new countertops and get them installed in Tulsa or the surrounding areas, please give us a call today at 918-417-1818
We are the #1 countertop installer in Tulsa for a reason! Give us a shout and let us show you why.