Kitchen Remodeling Broken Arrow OK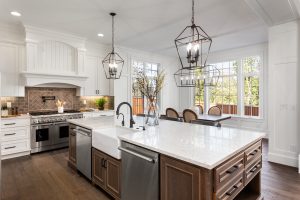 Kitchen Remodeling Contractor Broken Arrow Oklahoma
Are you in the market for a new kitchen in Broken Arrow, OK? Our friendly contractors are standing by to speak with you today! At Tulsa Home Remodeling & Kitchen Cabinets, we employ kitchen designers and kitchen remodeling experts in Broken Arrow who can help you have the kitchen of your dreams!
Broken Arrow OK Kitchen Remodeler
Your kitchen is one of the leading factors used to determine the value of your home. In addition to increasing comfort and functionality, a kitchen remodel is a great investment if you'd like to increase the value and resale value of your home.
Tulsa Home Remodeling & Kitchen Cabinets can help you from start to finish with your kitchen remodeling project in Broken Arrow.
We are experts at ...
Kitchen Cabinet Installation
New kitchen flooring
Kitchen backsplash
Kitchen Tile
Kitchen Sink
Kitchen Appliances
Kitchen Lighting
Kitchen painting
And much more!
New Kitchens Broken Arrow
If you'd like to speak with one of our kitchen design experts in Broken Arrow, give us a call at 918-417-1818
We would love to speak with you about your kitchen remodeling project and help you build the kitchen of your dreams! Give us a shout today and let us give you a free quote. 918-417-1818